This November we are applying a pre-emergent weed barrier and an insect treatment to your lawn.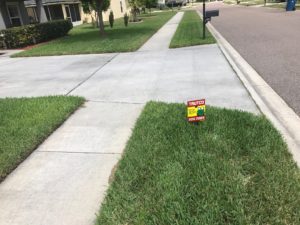 This lawn application will target and prevent weeds as your lawn heads into dormancy.  Warm season turf will lose color this time of year.  This is a natural part of your lawn's life cycle.  We are treating winter annual weeds such as clover, hawksbeard, and chickweed in your lawn this month.  Our lawn care treatments will continue to be aggressive as there is less risk associated with treating weeds this time of year.  We will also be broadcasting an insecticide targeting all crawling/turf destroying insects.  We will treat active large patch during each monthly lawn care service.  Reducing irrigation is the best prevention.
Continue watering once each week, and water each zone for 45 minutes.  Watering for longer durations (45 minutes – 1 hour, rather than 20-30 minutes per zone) will encourage deeper root growth. Mowing at 4 inches will also encourage a deeper root system. We are always here to help you troubleshoot any issues that may arise.  Good cultural practices are going to prevent common problems from occurring in your lawn.